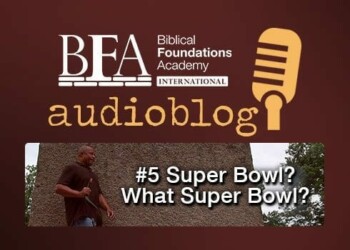 BFAI Audioblog #5
Listen in to this week's audioblog where Keith will be discussing your reactions to the fourth Now is the Time episode's screening. PLUS, hear why Keith, who is the former chaplain for the Minnesota Vikings, honestly doesn't even know who is playing in this year's Super Bowl!
Remember, this weekend (January 31-February 2) is the climactic conclusion of the Free Screening Release of Now is the Time: Revealing Secrets, Restoring Truth episode five.
CLICK HERE TO WATCH NOW
No need to log-in because we are making it a FREE FOR ALL Share-a-thon! After you watch be sure to share with family and friends. All they have to do is click and play!
*Important Note: For all registered members, your comments on Episode Five will be discussed on the next audioblog! So please chime in. Also the BFAI Audioblog with Keith Johnson is now in iTunes!
Subscribe to the BFA Audioblog in iTunes
---
Done listening? Sign up as a free member to get updates & listen to past audioblogs here: BFA International Blog
THE BFAI Audioblog with Keith Johnson is now on the Podcast App.  If you have an iPhone, iPod, or iPad...
Subscribe to the BFA Audioblog now
Connect with Keith on Facebook or Google+
Post ID: 4971