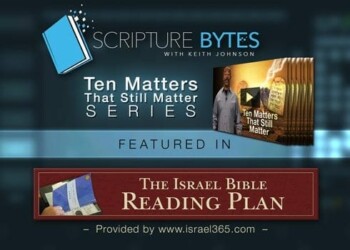 Doors are opening around the world!
By Keith Johnson
CLICK PLAY BUTTON TO LISTEN
Nearly a year ago I was invited to be a guest columnist for Breaking Israel News (BIN), which gave me an opportunity to share my assessment of present-day events from a biblical perspective. So began a fruitful relationship. I am pleased to announce that BIN, along with Israel365.com, is featuring our Scripture Bytes series "Ten Matters That Still Matter to God" as part of their Israel Bible Reading Plan. Imagine that!
This cooperative venture is so unique that Rabbi Tuly Weisz, publisher of Breaking Israel News and founder of Israel365, has written a special article to explain and celebrate our efforts. Be sure to read his thoughtful comments here.
Continue Reading…
Post ID: 8165