Why I Stopped Three Israeli Cops
Jerusalem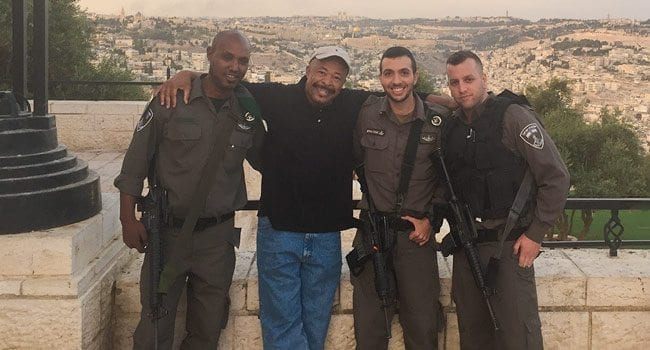 By Keith Johnson
Pray for the peace of Jerusalem:
"May those who love you be at peace.
"

–
Psalms 122:6
Within an hour of arriving in Jerusalem I was stopped by armed Israeli security asking for my ID. The next morning I went for a walk and this time when armed soldiers saw me they crossed the street to interrogate me. After answering their questions, I asked why all the curiosity. They explained that I was 300 yards away from where a terrorist attack had just happened—right in the area I was walking from! One of the soldiers suggested that I go and stay in my hotel room. After following his advice for a few minutes, I ventured out again and promptly had my third encounter in 24 hours with armed security. This time it was dark and I engaged them before they could ask me anything.
That's when I decided to "lean into the environment" and try to do my part in offering calm in the midst of tension. After looking at a Jerusalem map I understood that where I had been walking bordered two East Jerusalem Arab neighborhoods where some of the attackers had come from. I also realized why there were heightened security measures after seeing the success of terrorists who had gotten close enough to stab or steal guns from security personnel. I have been reminded that these young men and women have been placed in the line of fire, not by choice, but by the requirement to serve their country and provide security for Jews, Muslims, and even unaware tourists who don't know where they are walking—everyone!
So in the midst of the growing panic in and around Jerusalem, I took a walk to a place where I could pray over the entire city, including the Arab neighborhood of Jabel Mukaber, which is a short distance from my hotel. That's where I found these three guys who looked like they needed some encouragement. So this time I stopped them . . . and told them thank you!
Would you like to keep up with me through our free BFA International newsletter? Click Here!