Why not the name Jesus? Video Series
4 Episodes Aired on Shabbat Night Live!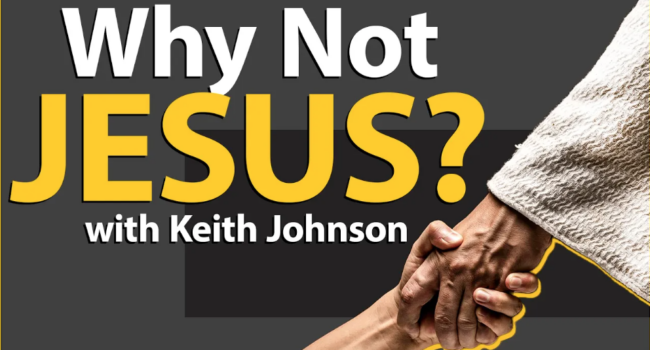 Episode 1
Do we "Get" him?
Most of us did not start our spiritual journey with a Torah-observant mindset — we had what Keith Johnson calls a "Jesus journey." We learned the Jesus stories and the Jesus songs, but there's a big difference between knowing about him and truly knowing him.
The truth is, we cannot truly understand his ministry or his message without first understanding his original, given name: Yeshua.
Why Not Jesus? with Keith Johnson stresses the importance of knowing the power and purpose of our Messiah's name — because, without it, we will fall into the trap of creating our own "Jesus" and our own religion.
Mainstream marketing has been flooded with a multi-million-dollar campaign to promote the Messiah — but is it pointing to a savior that doesn't exist? Keith Johnson explains why the "He Gets Us" campaign sends a misguided message based upon a false idea of "Jesus" and why the real question is: "Do we get Him?"
---
Episode 2
Where did "Jesus" come from?
Where did Yeshua's name come from? Modern Christianity would have us believe it was unique, but it actually comes from the Torah! Keith Johnson explains how Yeshua's name was politicized over the centuries to completely disassociate it from the language, history, and context of the Old Testament!
---
Episode 3
The Bethlehem Birth Certificate
Translators of many English Bibles put poison tricks into their translations in order to disconnect the English name "Jesus" from the Hebrew Yeshua. Keith Johnson reveals "the Bethlehem birth certificate" that forever solidifies Yeshua's name with his mission.
---
Episode 4
Let Yeshua Speak!
Yeshua never spoke in his own name; he spoke only in the name of his Father. In this final episode, Keith Johnson shows us, using Yeshua's own words, what the Messiah's name really means, why it has so much power, and how his name was written in three different languages.
---
Let's Stay Connected
Get our Behind The Doors Bulletin and a special BONUS, free!