Confronting Panic
Proclamation Video
It seems that people around the world are pushing the proverbial panic button—again. This time it's the coronavirus that is making its way around the globe. As I am on my way to Israel for a REALLY important meeting, I am reminded of the need to confront the spirit of the god Pan—you know, panic.
A few years ago I visited a cave in northern Israel where Pan had been worshipped. I made a public proclamation against panic that I still stand by today.

For some important background about this false god that has raised its ugly head, read some excerpts from the article below.
Excerpts from article in Haaretz
An extremely rare bronze mask of the ancient Greek deity Pan has been unearthed in an excavation at the Sussita archaeological site on the Golan Heights.
The mask, which dates back to the Hellenistic period, is larger than a human head and is made of bronze. It is extremely rare, because most ancient bronze statues and masks were melted down in later periods. . . .
Pan was worshipped not only in the city's temples, but also on pasture-land and in nature, said [Dr. Michael] Eisenberg [of the University of Haifa]. One of the best-known cultic spaces dedicated to Pan is in a cave in the ancient city of Panias, north of Sussita.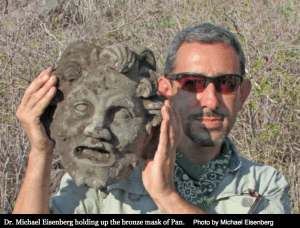 "Rituals to worship the gods of pasture and the fields, particularly Dionysus, were held fairly often outside the city," Eisenberg explained. "They included ceremonies that involved drinking, sacrifice, and ecstatic worship . . . ."
After reading this article, I decided to travel to the city of Panias in the Golan Heights, where panic was practiced, to make my own proclamation!
I pray that you will take advantage of the many audio, video and written presentations we have available that will help you build a biblical foundation for your faith so you won't fall prey to the spirit of the god Pan, who has raised his ugly head in our midst . . . again!
Let's Stay Connected
Get our Behind The Doors Bulletin and a special BONUS, free!