CLOSE VIDEO
This tenth matter is unique among the so-called Ten Commandments. The other nine involve specific actions, but this one only addresses our thoughts. In fact, this last of the Ten Matters that Still Matter to God gets at the true "heart" of all ten matters!
Did you enjoy this Ten Matter series? Help us "keep producing" by becoming a member of the Academy Premium Content Library or simply look to the right of this page and click the gold Support BFA Now button with a one time or recurring brick of financial provision.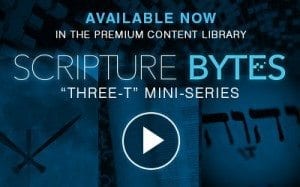 For those who want even more Scripture Bytes right now, become a Premium Content Library member and dive into the "Three-T Miniseries" and much more. If you like what you see, please share Scripture Bytes with family and friends. Our aim is to saturate the world with the Word of God.
Don't forget to download the companion PDF study guide in the link above!
Please give us some feedback on this "Ten Matters" series in the
comment section.