The Real Reason
The truth behind the American Christmas season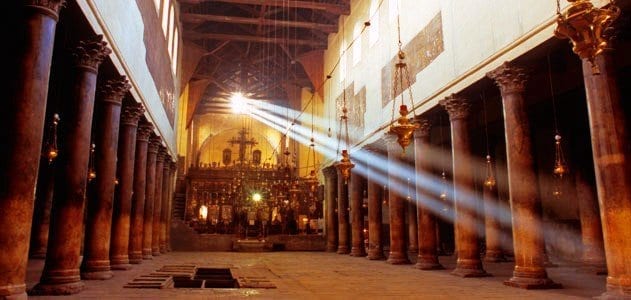 I have waited more than 11 years to finally be able to unwrap a gift of truth that I want to present to you. In 2002, while visiting the Church of the Nativity in Bethlehem, Israel, a light pierced the darkness of tradition and caused me to take down our tree and cancel the Johnson family Christmas celebration. Before you consider me just another Grinch looking to spoil your family festivities, hear me out.
This has not been an easy journey for me. I grew up in Minnesota—you know, the frozen tundra where Santa Claus recruits many of his helpers. I obtained my undergraduate degree in social work, the area of study that depends on the Christmas season to turn up the heat on the "haves" in order to serve the needs of the "have nots." I earned a graduate degree from Trinity Evangelical Divinity School in Chicago, where Christmas is taught as one of the cornerstones of Christian practice and belief. I am also an ordained United Methodist pastor (until further notice) who counted on the green in the Christmas Sunday offering every year to keep the church out of the red. In other words, as a born-and-bred Bible-believing pastor, I would have been out buying last-minute gifts with my credit card or preparing my Sunday sermon hoping to preach myself out of debt for the next year! Instead, I am sharing this light of truth with you.
I have had to weather the winter storm of backlash from family and friends who accused me of going too far. I have also had to wade through the maze of mad messianic folks who tend to throw everything against the wall just to see what sticks before I could find something contextual to present to those I hope to reach. I am searching for the remnant of people who want to learn to love what our heavenly Father loves . . . and hate what He hates.
I have postponed production of the regular episodes of our new television series, Now Is the Time: Revealing Secrets, Restoring Truth, just to get this special presentation ready for you. It is my hope and prayer that during this season, when we are fed a feast of Christmas tradition, you will be open to a tidbit of timely truth. Here is the REAL reason behind the American Christmas season.
Simply click play and start watching. Don't forget to share this article with your family and friends! Oh, and by all means, register as a free or premium member to leave a comment and to view our wide variety of online resources! While you watch this episode we are going back to work to finish the rest of the series!