A Discovery of Biblical Proportions…
This is a HUGE archeological discovery that further confirms the biblical account!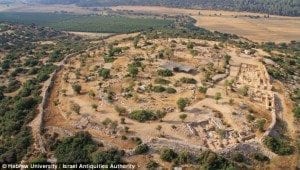 After you read this article by USA Today, or Biblical Archeology Society, watch the video Nehemia Gordon and I recorded in early  2011 about David and Goliath filmed on location at this very spot!

Archaeologists have made a discovery of Biblical proportions: They say newly excavated ruins near Jerusalem are "the best example to date of the uncovered fortress city of King David."

Extensive digging has unveiled a pair of structures, one of which may have been a palace belonging to the king; the other is believed to have been a storeroom that would have been used for holding taxes, which would have taken the form of agricultural products, they say.
"This is indisputable proof of the existence of a central authority in Judah during the time of King David," the researchers say, per Fox News.
The site of the Biblical battle between David and Goliath is now called Khirbet Qeiyifa. It was likely decimated in 980 BC during a battle with the Philistines, the Jerusalem Post reports.
For those who are interested, the entire His Hallowed Name 12 episode television teaching series is available behind the Tetragrammaton door!
"