How do you say God's name?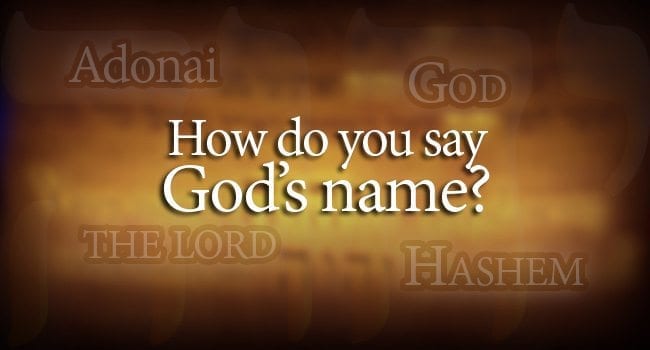 I will never forget that amazing day in the Spring of 2002. Come with me. As Nehemia Gordon and I waited to tour the tunnels under Jerusalem, I asked him a question that had intrigued me for a long time: How do you say God's name? I had asked this question of many Jewish people before Nehemia, but with no success. They either said it was too holy to pronounce, too profound for me to understand, or too powerful for me to handle; therefore, I was prohibited from proclaiming His name. When I asked my new friend Nehemia, who happened to be both Jewish and a Hebrew Bible scholar, about the pronunciation of the name he responded by asking me a question: "Do you know any Hebrew?"
During the year prior to my trip to Israel, I had reacquainted myself with my Hebrew language studies from seminary. I was excited to respond to his question with a "Yes." After writing the four Hebrew letters  יהוה  on a piece of paper, Nehemia went on to give me a short refresher lesson on Hebrew vowels. After his discourse, I asked him to pronounce the name. With no hesitation he said something like,
"According to the consonants and the vowels found in the earliest vocalized Hebrew manuscripts, His name is pronounced…"
Immediately it seemed as if all sights and sounds around us were frozen in time, like a freeze frame of a movie. I looked up and saw a man with a prayer shawl draped over his shoulders standing in front of us, a shofar pressed to his lips. The moment Nehemia said the name, the man sent forth two blasts from his shofar. The freeze frame vanished. The pronunciation of the Heavenly Father's name, combined with the sound of the shofar, reverberated in my ears and revived my heart.
Since that monumental day in the old city of Jerusalem, Nehemia and I have spent more than a decade searching historical documents, studying linguistic information and reading the most important ancient Hebrew manuscripts available in order learn everything we could about our Heavenly Father's name. In fact, we have discovered even more ancient Hebrew manuscripts that witness to the pronunciation of God's name!
In 2011 we traveled to the Hebrew University at Jerusalem and met with one of the world's renowned experts on the Masoretic  text. Dr. Raphael Zer is the Editorial Coordinator of the Hebrew Bible Project. He provided us with crucial information about the importance of the two vocalized Hebrew manuscripts (The Aleppo and Leningrad codices) that are the main sources for research on the pronunciation of this magnificent name.

Now we are bringing all of our updated research and testimony together in a collaborative project we call The Hammer Pack that breaks through layers of Jewish and Christian tradition to give you access to the truth about God's personal and unique name! The Hammer Pack includes our two books, a twelve episode television series, an information update with a new teaching, plus an instructional CD and a 3-disc live teaching DVD set!

WATCH VIDEO BELOW
After going through The Hammer Pack you will be equipped with your own hammer of historical, linguistic and practical information, inspiration and revelation about God's name. For anyone who wants to learn more about what this name means and how to pray, proclaim, praise, and pronounce it, plus a whole lot more, The Hammer Pack is for you! After you view this promotional video, visit our store and you will be surprised at what we are willing to do to get The Hammer Pack to you!
"
Click Here to get your Hammer Pack!

Let's Stay Connected
Get our Behind The Doors Bulletin and a special BONUS, free!