Something wonderful is happening in our generation! More and more people are returning to the pages of an ancient book that continues to have profound meaning in our modern times. Even though this book has been banned, burned, and even barricaded inside vaults, its message is still reaching the hearts and minds of people around the globe.
If you are among those who desire to Return to the Book, we would like to invite you to an eye-opening experience that will change your perspective and possibly even your life. Rather than be confined by the boundaries of religion, it is time to encounter the original language, history, and context of this powerful book so you can peek into the heart of the One who inspired its content.
At Biblical Foundations Academy International our mission is to inspire people around the world to build a biblical foundation for their faith. Join us for a weekend conference in which you will gain access to a treasure chest of tools that will help you dig down to the bedrock of the Book for yourself!
Here is look at some of what we will cover at the Return to the Book Conference:
Fulfillment of Prophecy from the Book
Bible Translations: Confusion or Conspiracy?
Answering Six Universal Questions about the Book
Three Keys to Unlocking the Power of the Book
Why Hebrew?
Study Tools Workshop
Face-to-Face Q&A with a Bible Editor and Translator
and much more!
Pastor Keith Johnson has invited Rabbi Eliezer Ben Yehuda, historian, author, and Hebrew scholar, to join the BFA International team in presenting the Return to the Book Conference. Rabbi Eliezer is the grandson of Eliezer Ben Yehuda, the man who resurrected spoken Hebrew in the land of Israel.
To cover the cost of facilities, production, and lunch, we need to charge a minimal registration fee of $89.00 per person. We welcome children age 12 years and older based on their maturity. No childcare available. The conference will begin at 7:00 p.m. Friday night and end at noon on Sunday.
To guarantee your seat, please register below by purchasing your ticket to the Return to the Book Conference. The price of $89.00 is available on a first-come-first-served basis. Register today!
Conference Site:
Champion Kingdom Center
12243 Nations Ford Road
Pineville, North Carolina 28134
Buy Tickets Now
For those who need hotel accommodations, we are recommending the following hotel that has blocked out rooms for our conference attendees. When making your two-night reservation (Friday, Aug. 25 and Saturday, Aug. 26) be sure to mention BFA International to receive the best rate available.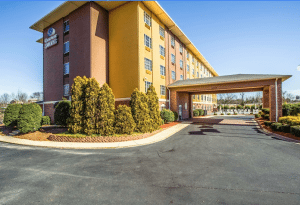 Comfort Suites Pineville
10415 Centrum Pkwy, Pineville, NC 28134
Rate: $94 (before tax)
Call 704.540.0069 to book your room (Reserve before August 1)
Remember, say that you are with "BFA"